Do you always have a hard time carrying your bottle, your cup, and your pillboxes at a time? With Pill Organizer Bottle, everything's set up!
PILL BOTTLE BENEFITS:
Large capacity bottle
Stylish design
BPA free
Easy to assemble
7 medium-size pill boxes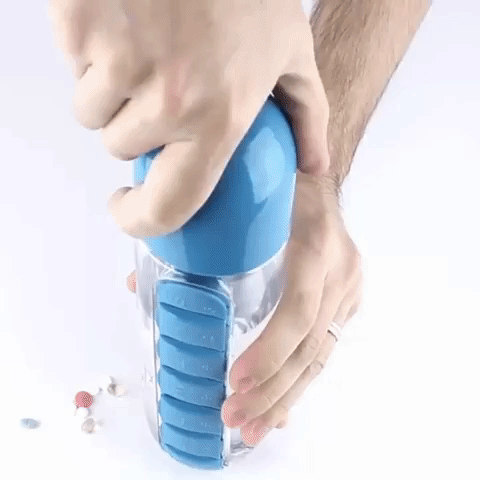 PRODUCT DESCRIPTION:
HIGH QUALITY MATERIAL
The Pill Organizer Bottle is made of eco-friendly, BPA free PP material. This bottle also complies with its international safety and health standards.
CONVENIENT & FASHIONABLE

When was the last time you saw a multi-functional bottle? Pill Organizer Bottle is a juice/water bottle+pill organizer+cup in one. This perfect combination will make it easier for you to take your daily vitamins/medicines. The built-in pill organizer that is removable contains a lid that can be used as a cup. Great for hiking, gym, travelling, or to keep at your bedside.
EASY TO ASSEMBLE
The Pill Organizer Bottle can be taken out while you are cleaning or refilling the bottle.
PRODUCT SPECIFICATIONS:
Material: PP Plastic
Bottle capacity: 600ml
Pill capacity: 7 medium-size pill boxes
Size: 3.1x9.2 inches
PACKAGE CONTAINS:
1x Pill Organizer Bottle - Take Your Meds Everywhere
OUR 100% SATISFACTION GUARANTEE
⭐ Very useful and convenient device! I will definitely repurchase this - Zayn
✅ If for any reason, you do not have a positive experience, we will do EVERYTHING to ensure that you are 100% satisfied with the purchase you made. We support it with a 14-day risk-free guarantee.
Are you not happy with your Pill Organizer Bottle? No problem. We will refund the money nicely back to your bank account.
Do you have any questions or comments?
📞 We have 24/7 365 days a year the best customer support via E-mail! Contact us if you need help