Are you tired of trying to keep your car clean? Are your kids constantly leaving clutter lying around your car? Can you never find anything? If this sounds like you, then you need the all-in-one Multi-purpose Car Back Seat Organizer! With 7 pockets available, fit all of your items exactly where you need them to be. The organizer comes with both seat back buckle and bottom straps for you to choose how you want to secure it.
Pockets galore
Discover six mesh pockets, one center pouch, and one transparent pocket for tablets and devices. Whether it's snacks, sunglasses, candy, or toys, have all your family's needs and wants in one place — and not scattered across the backseat or side storage pockets.
Multi-purpose use as an all-in-one Seat Back Organizer, Kick Mat and Seat Protector!
Keep clutter away and store all travel essentials in an easy-to-find, easy-to-reach place.
7 pockets in total: one at the top for iPad or magazine, 2 for phone and keys, 2 for drinks and bottles, one for tissues, one large pocket at the bottom for newspapers, books or plastic bags.
Fit most car seats with adjustable headrest, seat back buckle and bottom straps with hooks.
High quality material and durable construction allows you to wash it by hand!
Made of Polyester
Approx. 15.72" x 19.65" x 3"/ 40 cm x 50 cm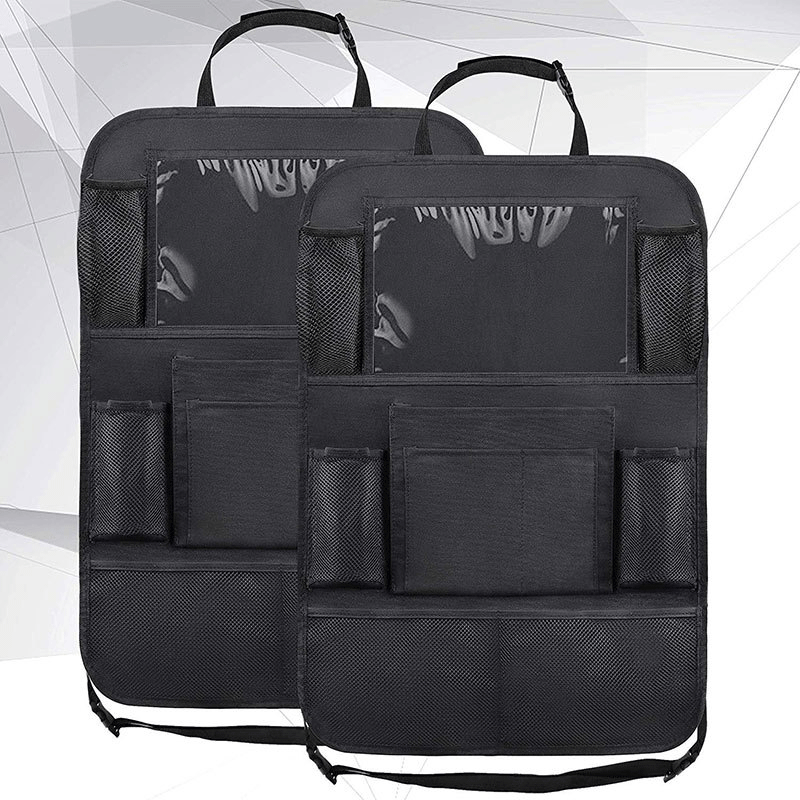 Built for durability and security in place
Constructed of black non-woven fabric that blends in beautifully with any vehicle interior, our Car Back Seat Organizer is a great addition to any van, truck, SUV, or sedan (it's a universal fit). Designed with a buckle-belt that secures sturdily to the back of your vehicle's front seats, hang this smart storage solution with ease. The organizer is also waterproof to minimize accidents and leaks or spills.