What's included?
Price ALWAYS includes: Heart frame + wooden hearts + stand

Additionally, you can complete the set adding the custom wooden box to store the small hearts and the detachable wall mount to hang the frame afterwards.

The size of the frame changes in proportion to the number of wooden hearts - check out the table above. The more hearts there are, the bigger is the frame!
The small wooden hearts are about 3 cm - 1.18''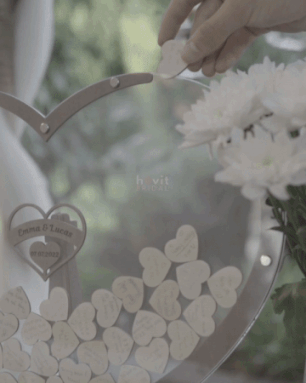 Your Heart full of Memories
You definitely want to keep every moment of the day and avoid missing a single instant.

Your attendees will write their loving thoughts and bits of advice for a happy marriage on the hearts and drop them into the frame.
It Turns Into a Beautiful Decoration
After the ceremony is over, the Heart Guest Book becomes a loving keepsake to treasure and display for years on end.

You can take all the loving messages home with you and remember them all the times.
Make sure to order on time!
Your order is personalized with your names and wedding date, so we will handcraft it once you place the order. Make sure to plan ahead and keep in mind our production and shipping times:
Production time: 5-8 business days
Shipping time: 7-16 business days (tracking number provided after the order has been dispatched)
For every personalization requests or any other requests, please contact us at [email protected] or through our  page. We get back within 24 hours!