ERASABLE EYELINER.. YES! You read that right!
Have our eyeliner dreams become a reality?
Did The Erasable Eyeliner just change the makeup game?
We're here to show you the new Eyeliner + Corrector that promises to take your winged liner skills to the next level. But does it actually work? Let's find out!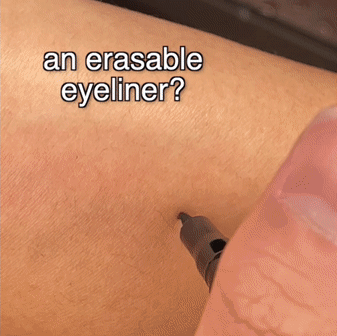 EVERYBODY MAKES MISTAKES.

That's why we created the 2-in-1 Erasable Eyeliner - a waterproof (and cry proof) and smudge-proof eyeliner to help you draw the perfect wing every single time.

Say goodbye to smudged lines and uneven wings!
Do you need to sharpen your wing? Simple.
I've made a mistake? No problem.
Do you hate stains and stains? Forget it.
Coming with a high-precision tip that's gentle on the eyes and our patented erasing technology, our Erasable Eyeliner is definitely a gamechanger!

This mistake-proof liquid eyeliner takes the time and intimidation out of creating the perfectly lined lid. Whether you are going for subtle definition or a dramatic cat eye, you can do it - and no YouTube tutorials are required. The gentle felt tip lays down a smooth line with an extreme payoff that will last all day!
Made a mistake? Wait 5 seconds for the formula to dry, then use the corrector tip to instantly erase the mistake without ruining any of your other makeup.
Liquid eyeliner looks are no longer for influencers and makeup PROs - Everyone can create the perfect winged eyeliner with Erasable Eyeliner.
APPLYING EYELINER HAS NEVER BEEN THIS EASY!
Erasable Eyeliner now offers a dual-ended pen with a liner on one end and an eraser tip on the other, It is highly pigmented in black and can be removed easily with just one swipe!
How to use it?
Apply eyeliner with O stress (mistakes are ok)
Use the eyeliner eraser to fix any mistakes, sharpen your wing, or any other makeup that you don't want.
And voila, it's that easy to draw the perfect wing!