Whether you are draining pasta or washing fruits and vegetables, conventional colanders will tip over and overflow. They sit in the sink and the dirty water will return to your food. too disgusting! That's why you need a new colander. This is an adjustable, versatile, sink-top colander that fits almost any sink! Wash, rinse, filter and drain, and don't let food come into contact with dirty dishes or water.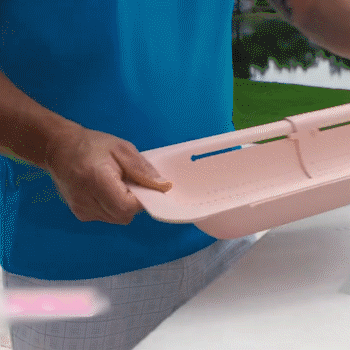 Our secret? Scalable design!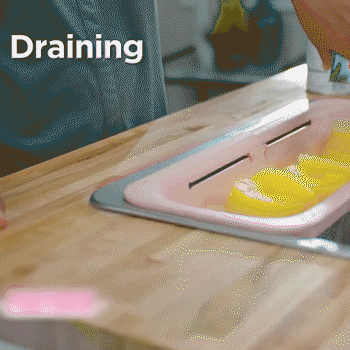 Feature
Multi-purpose-easy to use and multi-functional. Open the kitchen sink to rinse vegetables and fruits, drain pasta, defrost food or use as a dish rack, dry utensils, cups and small plates. It is also very comfortable to hold in your hand and can be used as a basket on the counter. No matter how you use it, we think you will like the versatility of this filter.
Modern design

-adjustable, this filter can be expanded from 13.5 inches (about 34.5 cm) to 18.9 inches (about 48 cm), can accommodate more or less space, suitable for most sinks when not in use. When stretched over the sink, the bottom will rise from the base of the sink, preventing the drained pasta water from being poured back into your food.
Quick drainage

-The holes at the bottom of the basket are evenly distributed to help with quick drainage. The hole diameter can reach 0.5 inches (about 0.5 cm), so this funnel is not suitable for rice, quinoa and most small grains.
Does not contain bisphenol A-this plastic colander does not contain BPA, so you can use it to prepare healthy meals for your family. It is also very durable, strong and heat resistant up to 220 degrees Fahrenheit (about 100 degrees Celsius).
Dishwasher cleanable

-Unlike some traditional filters, this filter is easy to clean and can be washed on the top shelf of the dishwasher without rusting.
Specifications
Material: PP
Color: Pink/White/Grey
Before stretching size: 34.5 x 20 x 6.5cm
Stretching interval: 34.5 - 48cm
Product weight: 345g
Package includes: 1 x Expandable sink drain basket

FULL GUARANTEE INCLUDED
100% secure and protected payment
Zero risks in buying our products. If you have any issues with our products or the delivery, we're happy to offer a REPLACEMENT or FULL REFUND, no questions asked!
E-mail:[email protected]